*Spoiler free review*

What an epic tale!

The writing is a bit old fashioned (it was written in the early eighties) but Rebecca Brandewyne sure knows how to tell a vivid and gripping story. Although it's my first read in English, over the years I read that book many times in French and it still has the same effect on me. I'm not a crying reader but whenever I read this book I always end up like this: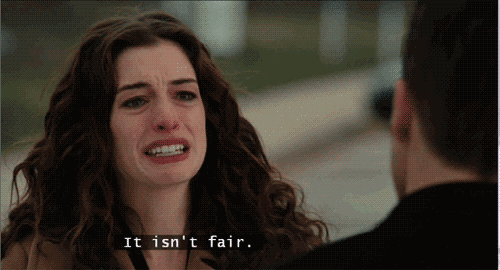 Love, Cherish Me is a beautiful albeit sad story. The book is subdivided in five books and starts with the epilogue, we are in 1866 Texas, 10 years after the story. Then we are taken backward at the beginning of the story in New-Orleans 1848. The first three or four chapters are a bit slow but then the story kicks off. There is a lot of twists and turns but the story keeps flowing naturally.

At the beginning of the book, Storm, the New-Orleans belle is 16. She is an orphan, and after having squandered her inheritance on the game tables, her uncle bartered her to cover his game loses to Gabriel North, a Texas cattle baron. On her way to meet her future husband, she is captured by outlaws then bartered (again) during a poker game to El Lobo a gunslinger, bounty hunter. Lobo ends up killing one of the outlaws and Storm not wanting to stay on her own in a place that can't even be called town chose to follow him.

I liked that despite the fact that she clearly was out of her depth, she took charge of her life. I also loved Lobo and together they formed a striking couple.

The book is well documented and in an effort to make the story even more authentic Rebecca Brandewyne chose to use phonetics transcripts for some characters' dialogs. They aren't so many but some non English native readers may have problems with that. Also, in the French version all the sex scenes were cut!